[Once a month we have a company member report to us about life on the road. This month, it's Marc T. Engberg sharing with us his experiences on our recent tours to the Marathon Center for the Performing Arts in Findlay, OH and the Missouri Theater in St. Joseph, MO.]
Findlay, OH
On the Red Carpet at the Marathon Center
When I told a Cleveland friend of mine that I'd be going to Findlay, OH, he exclaimed, "Ok."
Pics from the Marathon Center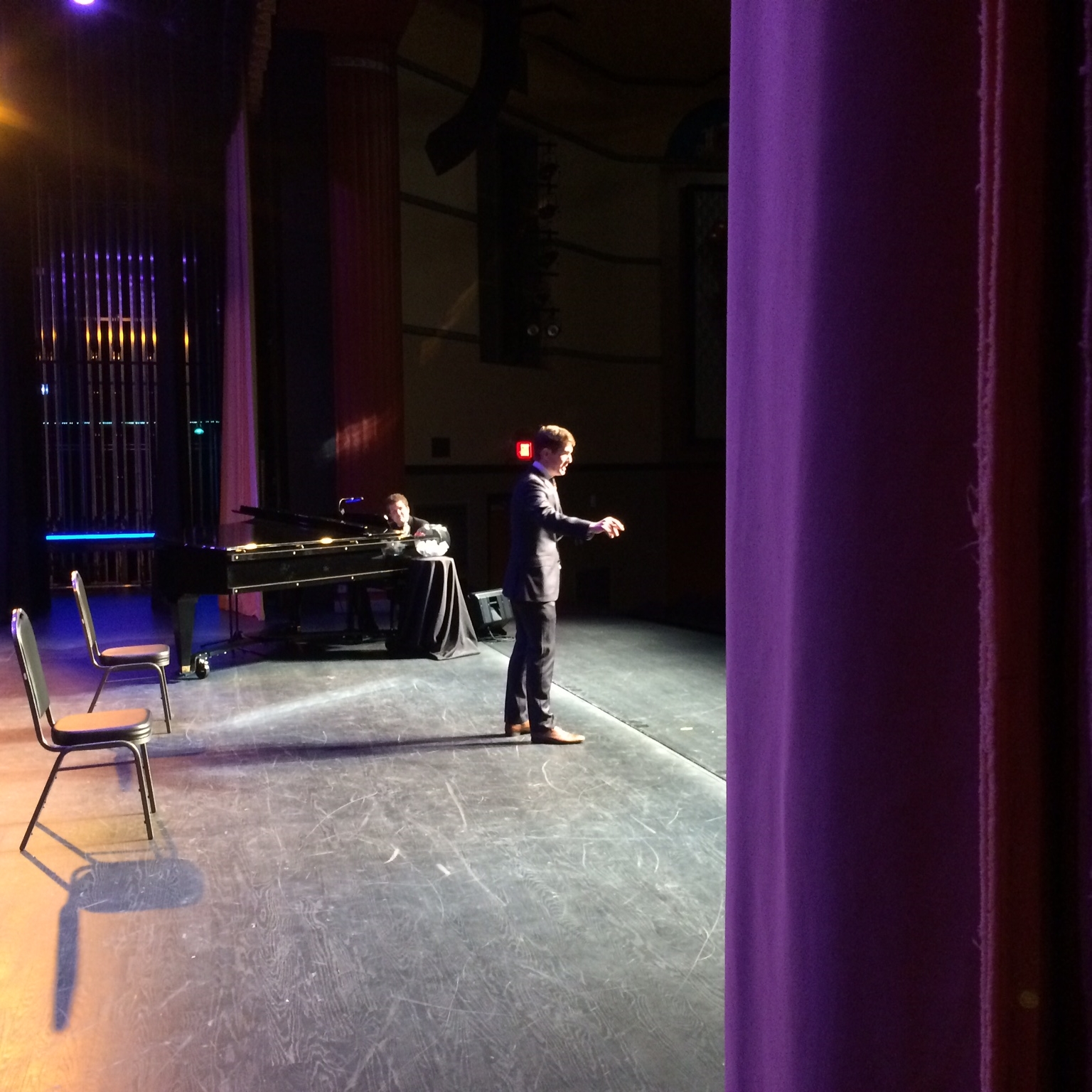 The cast of Broadway's Next Hit Musical arrived in Findlay around midnight the night before the show. With most of the cast having elected to retire and a couple more still on their way from the airport, I decided to set out on my own to discover the jewel of Hancock County.
I was hungry – I had earlier declined Delta Airlines' prix-fixe menu featuring courses of peanut, pretzel, and Camembert – and was determined to find some local eats. After a fruitless search for what had been described to me as a gastropub of some repute, I resigned to pull off the highway and into a fried chicken joint called Fricker's. Fricker's marketing slogan should be: Fricker's – Because it's open. (By the way, Fricker's bears no relation, as I had initially assumed, to the superb Irish character actress, Brenda Fricker, of My Left Foot, Angels in the Outfield, and Home Alone 2 pigeon lady fame). I summarily tucked in at the bar and placed an order for the establishment's signature offering, The Frickin Fried Chicken Sandwich. Slathered in a genetically enhanced chipotle emulsion and served alongside an obscene bucket of blue cheese dressing, the sandwich delighted at every sloppy turn. I'm telling you, if you put enough blue cheese dressing on it, I could eat a legal pad.
"I Won't Mow the Lawn in the Rain"
I suppose Fricker's is precisely the kind of place you'd expect to find in Findlay, OH at 1 a.m. on a Thursday morning. A drunk lady at the bar, upon discovering I was from New York, asked me maybe the greatest question I have ever been asked: "So, what's in New York?"
Findlay is a delight. A former oil boom town, it has maintained much of its historic charm, and its early 20th century grandeur has aged gracefully. There's an old world Americana charm to the place. The main drag downtown is populated by shopkeepers who oversee shops their grandparents and great grandparents and great great grandparents once oversaw. I know this because they have a store called Lou's Phonograph Emporium (@PhonoEmp on Twitter).
Cross-dissolve to Thursday night. Marathon Center for the Performing Arts. Beauty of a theatre. Fun show. Great crowd. Blackout.
Post show festivities included the cast bending elbows at that elusive gastropub, Alexandria's, Rachel, Tonya, Katie, and Assaf cutting a rug to the house band's fairly accurate renditions of 70s classics, and then Rachel and I staging a coup and sitting in with the band for a 10 minute duet/jam sesh of Stevie Wonder's "Superstition." We did about as well as you could hope to do in front of a bar full of passed out Allman Brothers fans.
Next up on the tour: St. Joseph, MO.
But first, a 3 hour layover in Minneapolis...
Rob had a glint in his eye. A 3 hour layover. It was only 30 minutes to Paisley Park - a 90 minute round trip, including 30 minutes of paying respects to the late, great Prince. Rob, a dyed in the purple wool Prince fan, was determined to make the pilgrimage, and Tonya, Assaf, and I were game to join in. It was a gamble, but a gamble Prince would have made. Paisley Park, which looks more like a pharmaceutical headquarters, was Prince's prolific funk factory for more than thirty years, and, now, the site of a makeshift memorial and many solemn goodbyes. Rob signed a poster honoring Prince by transcribing a quote by his inquisitive 3 year-old daughter, Penny: "Daddy, why is Princey so funky?"
With the final stage of grief now complete, it was back to Minneapolis International and on to St. Joseph, Missouri.
St. Joseph, MO
Missouri Theater Red Carpet
St. Joseph, MO is a little bit like me – it hasn't been touched in ages. And yet, it carries on with its head held high. Here is a town that once served as the starting point of the famed Pony Express. Now, it has a cafe called Pony Espresso. You get the idea. The centerpiece of St. Joseph is the glorious Missouri Theater – a veritable palace that once served as a cinema and, in the 1950s – when, as we all know, the movies became largely obsolete - was converted into a proper theater. Recently restored to its original form, somewhere between Art Deco modernism and Midwestern Aww Shucksism, The Missouri is the pride of St. Joseph, and rightly so. We were honored to perform there, and, by all accounts, we done her right.
"I Like My Shaggy Cat"
Out of respect for your time and mine, that's a wrap. Thanks for reading.